Become the WOMAN you WANT to be
I became a coach for women like me who want to heal themselves, serve others and become free.
I coach for 3 to 9 months women and men who wish to move to a new stage in their lives. I give you appointment under the palaver tree. To free you from what makes you suffer, blocks and hinders you. To no longer allow your past to ruin your present. I welcome you at home, in Segré en Anjou bleu, by phone or by video conference, across the world.
A holistic approach to coaching and therapy
I started my practice of coach and holistic therapist in 2010. At the time specialised in the accompaniment around the hair, I immediately understood the importance of bringing 360 ° solutions integrating body, mind and soul. My accompaniment, complementary to your traditional follow-up, aims to give you the keys to understanding patterns that you repeat unconsciously, that block you, and have repercussions on your life course, your career, your business, your beauty, your spiritual life .
My role is to help you find the love of the person you are and heal the wounds of your soul. For this, I listen to you, advise you, perform energy treatments and write for you personalised care rituals (diet, beauty and selfcare rituals, sleep, sports). I am also at your disposal between 2 sessions through my group guidance, my personalised meditations, my whatsapp hotline and my face-to-face workshops.
How to work with me?
Whether you have questions on your business or overall well being, I listen to you and give you the opportunity to freely express everything you feel and your concerns.
I also ask you many questions to help you go further. I talk a lot with you throughout our interview.
I often offer you practical exercises to do in between each session.
If you come to me for beauty and wellness, I also propose plants, oils and rituals from African traditions to purify you from the inside, release energies, move forward and find a personal, professional and sexual life happy and fulfilled.
If you come to me for business, I will send you your personalised recommandations to take your business to the next level.
Click here to book your first consultation with me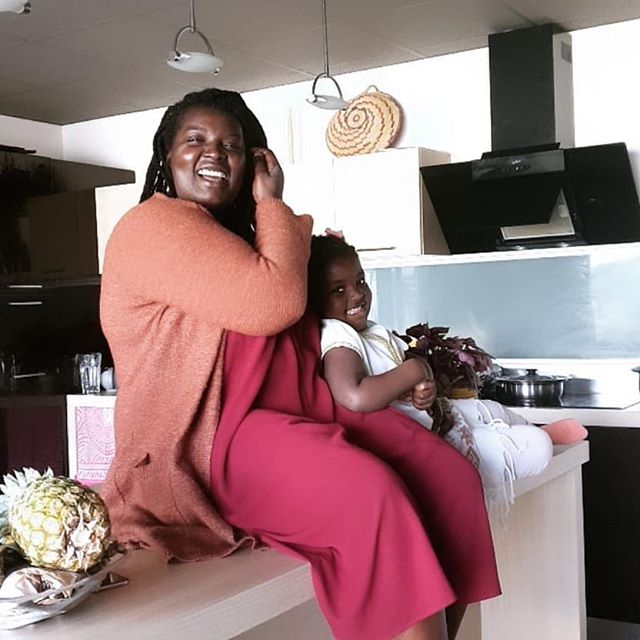 Hell, I have been through hell
In my journey to liberate myself from the diktats of society, beauty, business and serving others has been my therapy. Most of my clients, just like me, have been through hell. Unhealthy relationships, unhealthy education, unhealthy jobs, unhealthy relationships to themselves. Words and patterns they have been nurtured with from a very young age that have prevented them from becoming the woman they really want to be.
Hell.
I have been through hell.
I was not a desired child and I have had to fight for my life in my mother's womb. Even before I made my first cry on hearth. This feeling, this sensation of not being desired, of being unloved, unwanted, created patterns I kept repeating over and over again in every aspects of my life. I attracted men, friendships and clients that always placed me in the position of being abandoned or fearing to be so. Unhealed, I created business to free myself but it became a burden. I was building businesses were my presence was more than necessary. Not capable of putting the boundaries necessary for my sanity. Each time I felt in danger, I used the same pattern. Fighting for taking space. Being noticed. Gaining weight. I did not consider my self as being enough. I was not worthy of unconditional love. Therefore, my all career was about doing more, giving more, being more present so that no one could abandon me, abort me, humiliate me.
I gave so much without receiving enough. Money was coming and leaving the same second. I did not know my value. Things were always crazy, going all over the place. I lost myself. I lost my power. All the fear I had deep down in my bones and in my DNA become true. My husband left me with our 2 kids, my business collapsed. I was broke, in dept and depressed.
Healing.
When I launched my second business Cleva Consulting, I used the same patterns. Doing a lot, asking very little. Freshly divorced, I did my best to be the perfect mother. Not the one my kids needed me to be. Chased by the Gods of guilt again, with this little voice in my head telling me I was not doing enough. That only my HARD work could get me where I wanted to be, get me what I needed to have. Once again. NOT BEING ENOUGH. Until…. a major event happened to me BURN OUT. Because I could not turn my head again and put it in the sand, I dived deep into those patterns and belief systems who made me the women I had become : incapable of walking, moving, taking any decision, dancing, being the light I am supposed to be. The light I want to be. For myself, my children, my clients, my family. I wanted to chop what no longer served me. Break those patterns and beliefs 1 by 1 to create the business that I want to create. To express myself in the most authentic way. To be FREE. At Last!
Free.
In that journey for liberation, I have attracted women hove trusted me to guide them in their journey. Women who went through hell, who were beaten up, abandoned, humiliated, diminished as women, discriminated against. Who were prevented from being the light they are supposed to be. Women who want to serve the world and impact their communities. Women who have to deconstruct everything they were taught they have to do or to be in order to be loved, admired, protected. Everything they were told as women. Everything they were told because they are black. Everything the were told because they are black women.
Women who want to gain their freedom. Financial freedom, spiritual freedom, body freedom.
Women who know their business journey is their key to liberation.
Women who want to heal
African Therapies, House of WELLNESS
African Therapies is a unique coaching platform that offers inspiration, motivation and spiritual guidance to help black women create the life they want.
With my events, my goal is to create a safe space for women to share their experience in a true and authentic way. I truly believe in the power of stories as transformational tools, both a the listener and as the teller.
With my 1to1 consultations & coaching programs, I help women who need to be guided on the long run and need me to go in depth in their inner structure, but also in the mental blocs and patterns that prevent them to go where they want to go. I use of course, my intuition, my experience as a media strategist, as a serial entrepreneur, as a woman, but also tools such as MBTI and my intuition to guide them effectively on the right path.
My vision, with African Therapies, is to create a global crew, the clevacrew, of smart, intuitive, inspirational women who are willing to stop fighting and start receiving. Who are willing to open an easier path for our children when they become adults. Who are willing to create a world where we will no longer need to tell our sons and daughters that they need to be twice as good and be twice as much. A world where being authentically who we are will be enough.